DYNO TESTING YOUR AIRCOOLED VW MOTOR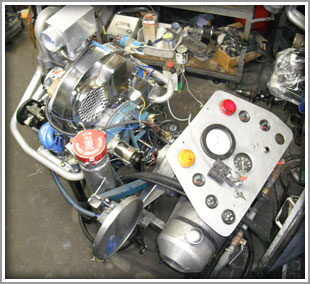 | DYNO TESTING SERVICES | $US |
| --- | --- |
| Dyno Test | $175 |
| Dyno Test with Jetting | $250 |
Vintage Volkswagen owners enthusiastic about their vehicle's engine performance would not hesitate to dyno their newly built aircooled motor before installing it, versus spending that same money on fancy upgrades; on the other hand, the majority of people would do the complete opposite.
The reality is that while expensive upgrades are suppose to enhance the overall performance output of the motor, if they are installed on a poorly tuned VW engine, they will not make a significant difference when compared to the money spent. The true goal is to get the best results using what you already have.
Besides the immediate benefits of a dyno test, like proper 'break-in' of new engines, checking for leaks and problematic noises and adjusting the timing, our customers can also opt their engine to receive a jetting service. Jetting the engine significantly improves the power and throttle response of your vintage Volkswagen so that you're not left behind everyone else at the stop light.
Dyno testing your aircooled Volkswagen motor might seem out of reach or an unnecessary commodity, but in reality it is fairly inexpensive and the benefits outweigh time and cost by far.
We provide this dyno service for all of our customers, whether it be an engine we have just built or someone dropping by for their own benefit, we will deliver a great dyno testing experience.
Thank you!